Earth Day is celebrated on April 22nd every year in over 175 countries and it enhances appreciation of our natural environment. It is also supposed to make us rethink our consumer behaviour.
Especially at this time of year, when spring in the Northern Hemisphere shows its best side, it is a pleasure to go outside and watch nature unfold anew in its annual manifestations of rebirth. The lush green of the meadows with the first mostly yellow flowers, the trees make their leaves sprout and are already showing their blossoms, thus giving us a glimpse of an impending rich harvest in autumn. The humming of the insects accompanied by the singing of the birds, calls us irresistibly to come outside and breathe in the wonderfully fresh air, full of energy, and to marvel at the wonders of nature. Mother Earth is presenting to us a sample of her full programme of this forthcoming year.
In order to preserve this beauty of nature and to continuously feed humans with such variety and plenty, Mother Earth needs each and everyone of us who is willing to stand up for this planet, for our children and children's children, to also still have a habitat to live in. This day is intended to inspire us in how and where we can help Mother Earth to be restored and healed again. We simply must not take her for granted, thinking we can carry on as before.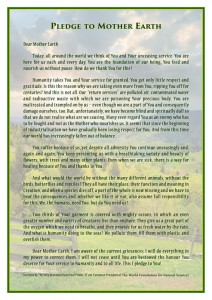 For that purpose The World Foundation for Natural Science gives you the opportunity to actively commit yourself by counteracting trends running in the wrong direction. For this purpose we provide you with a lot of helpful information for solutions in the form of news on our homepage, newsletters, lectures, seminars, Congresses, Fact Sheets and brochures to acquire the necessary knowledge and pass it on to your relatives, friends and acquaintances. We all should be interested in our own wellbeing, for there is no separation between us and the planet. There is a ripple effect in all that we do, "What I do affects you and what you do, affects me."
A lot can be done through us! For this it takes everyone who is prepared to pull together in the same direction, in order to re-establish the balance in nature. Everyone can contribute something in one way or another. It can start with a "Pledge to Mother Earth", and it is, of course, a great joy for us if you support The World Foundation for Natural Science as a member or help us with a donation so that we can fulfill our mission.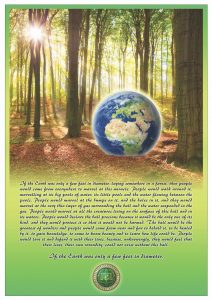 We invite you to make every day an "Earth Day" together with us, by daily being aware of our actions and our appreciation for Mother Earth and committing ourselves to her. Various members of The World Foundation for Natural Science are going to offer exciting events on the occasion of Earth Day to give people a new outlook for a better future for our Planet Earth. Join us! Get an overview of the calendar of events on our website or call us so that we can inform you about the offerings in various countries and regions, particularly with regard to "Arbor Day", celebrated only one week later, along with the request: "Plant a Tree."
As an inspiration we are pleased to present to you with the picture "If the earth was only a few feet in diameter" as well as the fascinating videoclip of "Nature is speaking" and some photos of our activities on last year's Earth Day.
Events
England
Date & Time
Place
Topic
Registration
April 22nd 2017
10:00 am – 12:00 pm
Marnham Fields, London UB6 9UQ England
Mulching – a vital part (covering the ground with wood chips)
April 29th 2017
12:30 pm – 3:30 pm
Better Living Studio
1a Church Street, Shirley
Southampton, SO15 5LG, United Kingdom
Lecture: In recognition of the service trees provide mankind and the earth.
Canada
Date & Time
Place
Topic
Registration
April 29th 2017
10 am – 6 pm
Public Library
Main Foyer – Genera
350 West Georgia Street
Vancouver, B.C. V6B 6B1
Information booth for the Arbor Day.
Events in other countries

The film "Symphony of the Soil" shows that soil is a living organism and the foundation for all life on our planet.