Superstars such as Paul McCartney and Sheryl Crow come together to sing for climate protection.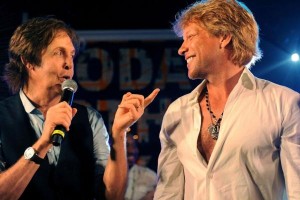 The United Nations has received prominent support for their climate politics. Paul McCartney, Jon Bon Jovi and Sheryl Crow want to support the environment protection policy of UN-Secretary General Ban Ki Moon with their song.
Joining them in "Love Song to the Earth" are Fergie, Colbie Caillat, Natasha Bedingfield and other musicians. The song was released on a popular music download service on Friday. From September 11th, it will be offered on a larger scale. It is also intended that the song attunes people to the UN-climate conference in December in Paris.
Other artists such as Beyonce, Coldplay, Ed Sheeran, and Pearl Jam will promote other UN-goals. The artists want to give a big concert on September 26th in Central Park. It will take place right in the middle of the UN-summit during which the so-called goals of sustainability are tabled. These projects, called SDG for short, shall proclaim for the next 15 years the politics of development, intending to eliminate hunger and thereby treat the climate with care.
Source: dpa
Watch the video of this wonderful song: