Thursday, November 1st to Sunday, November 4th 2018
Maritim Hotel, Ulm, Germany
Practical solutions that you can implement in your daily life.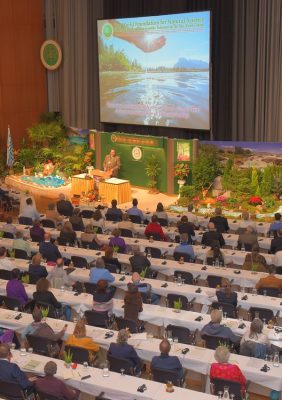 Practical solutions that can change your personal life in the most positive way.
Practical solutions not only for you personally, but also for a world increasingly going off the rails.
This is what is needed. And this is what The World Foundation for Natural Science, stands for, convinced that it depends on every single person and all of us together to affect positive changes on this planet.
That is why we will again hold a Congress, in Ulm, Germany, from Thursday, November 1st to Sunday, November 4th 2018. "Be the change you want to see in this world", said Mahatma Gandhi.
Are you ready to take the initiative for a better, cleaner and healthier world – not only for yourself but also for all those who are going to live far beyond your lifetime? Then we look forward to you being with us together with many like-minded people, whose personal well-being and that of all life is very dear to their heart. Together we can make a difference!
At present we are putting together a programme with current topics from renowned experts.
We recommend you make the decision today to come to Ulm and register for this unique Congress!
Congress information
Congress Schedule
| | Program | Registration |
| --- | --- | --- |
| Thursday, November 1st 2018 | 7:00 pm to 9:00 pm | starting 3:00 pm to 6:45 pm |
| Friday, November 2nd 2018 | 9:00 am to 6:30 pm | starting 8:00 am to 8:45 am |
| Saturday, November 3rd 2018 | 9:00 am to 6:30 pm | starting 8:00 am to 8:45 am |
| Sunday, November 4th 2018 | 9:30 am to 1:00 pm | |
Translation
Simultaneous into English, German, Spanish, Czech and Russian
Do you have any questions?
We are happy to help you!
Congress fee
Entire congress
2 days
1 day
Individual Registration
€ 350
€ 300
€ 150
"65+"
(Golden Old'un)
€ 240
€ 190
€ 95
Married Couple
(Attending together)
€ 490
€ 420
€ 210
University / College Students
€ 120
€ 100
€ 50
Adolescents / scholars
€ 95
€ 70
€ 35
What our participants say
It was definitively the best and most interesting Congress we have ever had. The speakers were able to convey their message as never before, including new issues and a lot of information. Thank you very much!Miriam D., Germany
This is the first time I have been here. It is wonderful to see and feel that we all belong together in unity; nevertheless, we are following our own unique life´s journey. Thank you to all of you for this wonderful event, for your love! Alireza T., Switzerland
Thank you very much for this great Congress! It was the best ever, with fantastic speakers, lifesaving information and tools! This is how we get somewhere! All the best and every success for the future!Susanne W., Germany
A great heartfelt "Thank you" for all involved. As always: very good, game-changing and an eye-opener. Your engagement and enthusiasm is contagious. A good reason to pass it on!Suely M., Germany
Thank you so much for another outlook and such interesting topics! It is always a time for growth, learning, sharing and exchanging with the other attendants! There is a noticeable difference from other events and congresses. And much to bring home and to apply!Odile L., Austria
This was the best congress in years, very well structured. Refreshing, uplifting, genuine and natural! Thank you so much for your tremendous dedication!Susanne B., Switzerland
Doctor Natasha – absolutely astonishing lecturer and her lecture was so simple, so clear, so emotional! I've got a strong impulse to make a stop on my way and change my lifestyle. Thank you for that!Marina K., Lithuania
Simply content, happy to have had the opportunity to attend this congress once again. Enriched, with many new impressions, I will go back home. Many thanks to the excellent lecturers!Brigitta H., Switzerland
On many levels a trend-setting congress that not only gives a new outlook but also hope and visions (which will become reality). The lecture of Jörg Dossenbach particularly touched me. Thank you for this congress. Ulrike P., Germany
Last year's Congress
Watch the full length lectures from last year's Congress and read the reviews.