Life is based on natural electromagnetism. Every process of growth, repair, preservation or decomposition as well as any process of communication in Nature is based on the cooperation of natural electrical and magnetic impulses and the corresponding fields. This applies to the mineral, plant and animal kingdom as well as humans and it is true for cell communication even in solar systems.
Unnatural, technological, radiation caused by mobile communications has become the largest, man-made threat ever for all life and the entire environment. Whether used for a microwave oven, a DECT-phone, WLAN, Wi-Fi, Tablets, mobile or Smartphone, or Smart meters: Microwave radiation disturbs all natural processes in our bodies and in Nature. Hence, the negative impacts are manifold and to some extent already dramatic.
Practical tips for the correct handling of mobile communication devices:
At home or at your work place always use a cabled network.
Deactivate the Bluetooth/Wi-Fi function of all devices (laptop, PC, printer, car radio) if not in use (by switch or system control).
Use a wired phone instead of a cordless phone…. more
News on this topic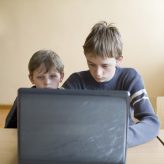 Children are becoming physically and mentally unwell because of excessive screen time in schools. Dr Nicholas Kardaras writes that to accept that screen technology, from smart phones to tablets to computers, as necessary to improve children's education is a lie. The best way to develop a brain is to encourage writing and drawing with pen and paper. Read on...
More news on this topic